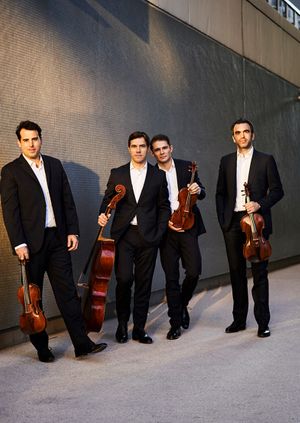 Meet the Modigliani Quartet
7th May 2022 7:30pm - 9:30pm
Add to Calendar
2022-05-07 19:30:00
2022-05-07 21:30:00
Europe/London
Meet the Modigliani Quartet
Amaury Coeytaux violinLoïc Rio violinLaurent Marfaing violaFrançois Kieffer celloWith pre-concert lecture by writer, lecturer and broadcaster Richard WigmoreRalph Vaughan Williams 2 movements from Household Music3 Preludes on Welsh Hymn TunesFranz Schubert String Quartet No.7 in D major, D.94Maurice Ravel String Quartet in F major, Op.35Renowned worldwide for their Gallic flair and impassioned performances, the Modigliani Quartet's festival debut combines a taste of RVW's music with the exquisite string quartet by Ravel, the French composer with whom Vaughan Williams studied orchestration and formed a life-long friendship.Why not delve a little deeper into tonight's programme at our pre-concert talk by distinguished musicologist, writer and broadcaster Richard Wigmore? Your Talk + Concert ticket will include a free glass of wine to enjoy in the break between the talk and performance.Book tickets at https://themenuhinhall.co.uk. https://tickets.iimf.co.uk/events/37384/meet-the-modigliani-quartet
Cobham Road, Stoke D'Abernon, KT11 3QQ
Event Details
Amaury Coeytaux violin
Loïc Rio violin
Laurent Marfaing viola
François Kieffer cello
With pre-concert lecture by writer, lecturer and broadcaster Richard Wigmore
Ralph Vaughan Williams 2 movements from Household Music
3 Preludes on Welsh Hymn Tunes
Franz Schubert String Quartet No.7 in D major, D.94
Maurice Ravel String Quartet in F major, Op.35
Renowned worldwide for their Gallic flair and impassioned performances, the Modigliani Quartet's festival debut combines a taste of RVW's music with the exquisite string quartet by Ravel, the French composer with whom Vaughan Williams studied orchestration and formed a life-long friendship.
Why not delve a little deeper into tonight's programme at our pre-concert talk by distinguished musicologist, writer and broadcaster Richard Wigmore? Your Talk + Concert ticket will include a free glass of wine to enjoy in the break between the talk and performance.
Book tickets at https://themenuhinhall.co.uk.